Monday, April 28th, 2008
Well, wouldn't you know it, I have stumbled onto two versions of how the name Oak Crest originated.   So, I will publish both versions for you to enjoy and decide for yourselves which one is correct.   Here they are:
Version one:  The children of Egbert Davis (Sunnynoll Farm) and of Walter Cartwright (caretaker of Sunnynoll Farm) would carry fresh fruits and vegetables to the Harmon sisters who lived in what is now Woodberry Forest.  The Harmon sisters were very poor, so the children would carry the fresh goods to them on a cart pulled by a pony named Toby.  They would go through the fields of Sunnynoll and through a beautiful forest of oak trees, down a steep hill of what is now the south end of Crepe Myrtle Cr to the Harmon's little cabin.  The children called the steep hill "whoopee hill" because as they went down the hill they would all yell "whoopee!"  Since the crest of the hill contained oak trees, the Harmon sisters called the area "Oak Crest". 

Version two:  Deep in the woods at the end of Freds Rd which is full of hills and trees is one very large hill.   On the top of that hill are the remains of a very large oak tree (see photo below).   This tree could quite possibly be around 250 years old.  Because this oak tree was much larger than its surrounding trees, it was probably at one time the most prominent tree on the crest of this large hill.  Thus the name "Oak Crest" was created to identify the area.  I am not sure exactly who came up with the name.  It may have even come from the Moravians back in the 1700's (more on this later). 

Also, at one time this hill was to be the location of a very large estate (more on this later also).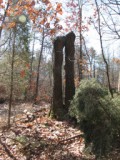 This is a photo of the old oak tree.  The back side has rotted out making it appear as if it were two trees.  At one time the tree was struck by lightning and that "scar" in the middle is where it tried to heal itself.  The tree is quite large in spite of how it may appear in this photo.  Click on the photo above to view an expanded version or visit the entire Historic Oak Crest Photo Gallery.
Considering that the Oak Crest neighborhood was created in the early 1920's prior to the Davis's house being built at Sunnynoll Farm, I tend to believe that version two would be a more accurate version for the origin of the name Oak Crest.  I still have a lot more research to do!  Hopefully I will find some information that will confirm one of these versions or uncover yet another version!
Now you know where the name of this blog, Whoopee Hill,  originated!  It's the result of late night humor between me and my webmaster!