Saturday, May 31st, 2008
Harmon Av, originally a boulevard style street, is located south of and intersects with Oak Crest Dr (now Polo Rd).   It is a subdivision of parcel 27 and was platted in July 1927 by Hinshaw & Marshall, C. E. (Civil Engineers) and was owned by N C Hines Inc and others (Lettie Billings was one of the others). 
The name Harmon originated from the Harmon family who owned the land just south of parcel 27 (what is now Woodberry Forest).  There was a small cabin on the Harmon farm and two or three (I have heard both numbers) sisters lived there together. 
Harmon  Av was divided onto small lots (1 - 47) that were approximately 30 feet across the front and 150 feet deep.  Also, there was a little street cut on the east side of Harmon to access the side street (already developed) from Rosedale Cr.  This connecting side street was already called Rosedale St.  The name was later changed to Hobart St on 8/5/1957.  I am not sure where the name Hobart originated. 
At the same time the Fries brothers revised the subdivision of the west half of Rosedale Cr and resubdivided it into smaller lots.  Lots A, B, H, G, I, J, P, O, Q, and R were resubdivided into lots 48-115 and were about the same size as those on Harmon Av.
Also, sometime during the 1950's (probably 1957 or after, when OC was annexed into the city) the residents of Harmon (mainly Rev Wilson and Mr Hart) wanted the city to pave the street.  At the time it was a boulevard with a center median of grass and trees.  The city would only agree to pave one, but not both sides of the street.  So, it was decided that the center median would be taken up and the street moved to the center and paved.   Then the former lanes were converted into extended lawns for all of the residents.  Evidence of the former boulevard can still be seen along Harmon such as sidewalks stopping short of the street, old curbs and gutters, and rock walls.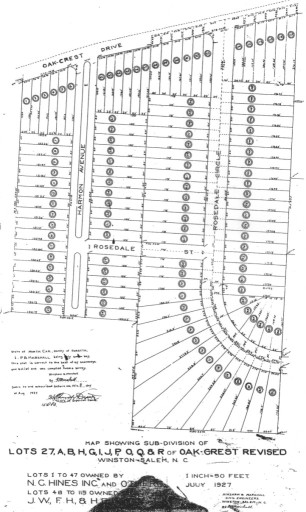 This plat shows the subdivision of Harmon Av from the original parcel 27 into lots (1-47) and the resubdivision of  the west side of Rosedale Cr (lots  A, B, H, G, I, J, P, O, Q, and R) into lots  (48 - 115).  Click on the plat above to view an expanded version or visit the entire Historic Oak Crest Photo Gallery.