Sunday, October 26th, 2008
Weekly Acorn #54
Growing up in Oak Crest was a fun and unique experience.  Over the past eight plus decades there have been many children that were lucky enough to grow up here.   Lots of memories and life long friendships, sleep overs, acorn fights, snowball fights, sledding down Idlewild Dr, first loves, bullies, pranks, you name it, they have all been a part of life in Oak Crest. 
Many of the children in Oak Crest had the priviledge to attend their very first days of school right here in the neighborhood at Margaret Hunt's Kindergarten class.  Mrs Hunt lived at 133 Rosedale Cr and during the 1950's and 60's she taught kindergarten in the finished attic of her home.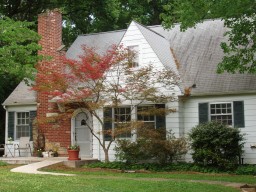 This house at 133 Rosedale Cr was where Margaret Hunt taught Kindergarten in her finished attic.  Click on the photo above to view an expanded version or visit the entire Historic Oak Crest Photo Gallery.
A typical day in Mrs Hunt's class, which were half days in the mornings, might consist of reading stories, artwork that they would hang on the walls, gathering downstairs by Mrs Hunt's piano to sing songs, outings to Wake Forest College, playtime in the back yard, and snacks.   There was even a little playhouse in the classroom.   The children would attend school Monday thru Friday.   Their parents would drop them off and pick them up at the side door of the house.  
The photo below is the class of 1962-63 and two of the girls from this class still live in Oak Crest.   Lisa Talley Palmer grew up on the other side of University Pky on Yellowstone Ln (her father, Hans Talley, named the street), and where her daughter, Holly, now lives.   Lisa now lives on Crepe Myrtle Cr.   Lynn Lincoln Biggam grew up on Rosedale Cr and still lives in her childhood home. 
In addition to Lisa and Lynn, some of the other children from this photo include Mark Boger, Tony Gent, Helen Saunders, Lynn Tillett, Chip Hamrick, David Bailey, Lynn Timberlake, and Steve Hoots (Lisa's cousin). 
Lynn Tillett and her sister, Janine Tillett Phillips, both attended Mrs Hunt's Kindergarten and they also grew up on Rosedale Cr.  Janine still lives on Rosedale Cr, three doors up from the house where she grew up.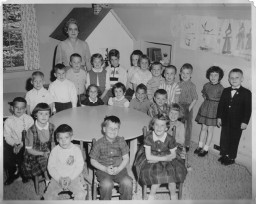 This is the class of 1962-63 of Mrs Hunt's Kindergarten made in her attic classroom.  Notice Mrs Hunt in the background as well as the playhouse, a built-in bookcase, and the students' drawings on the wall.  Click on the photo above to view an expanded version or visit the entire Historic Oak Crest Photo Gallery.
The Hunt's lived in their house from 1948 until each of their deaths.  Mrs Hunt lived there for nearly 40 years.  After her death the house was sold in 1988 and again several times before eventually being purchased by Wake Forest University in 2000.   The university leases the house to members of their staff.